My rose gold Ikea hack kitchen
When it came to buying a play kitchen for my girls, I couldn't go past the value and beautiful design of the Ikea DUKTIG Play Kitchen. At only $129, it was an easy choice, but the grey accents didn't work with my playroom colour scheme. Step in spray paint! Not being one to shy away from a DIY, I got my paint on and gave the kitchen a little makeover to pretty it up, and it came up a treat!
DUKTIG PLAY KITCHEN - IKEA
As the kitchen is purchased as a flat pack, it was relatively easy to paint prior to assembling it. I simply purchased a couple of cans of rose gold spray paint from Bunnings and sprayed the accessories over a drop sheet in the garden. I chose this particular paint as it does not require a primer, and bonds to both plastic and metal - plus the colour was exactly the shade I was looking for. I sprayed 3 coats in total, the first being a very light coat, followed by 2 further coats the next day. The paint was touch dry after a couple of hours, however I waited another day before assembling the kitchen to ensure it was completely dry.
RUST-OLEUM METALLIC ROSE GOLD SPRAY PAINT
But why stop there when you can add a marble benchtop too? Thanks to Kmart, for $3 I was able to purchase a roll of 'marble' vinyl adhesive which was applied straight over the existing plywood benchtop. This was probably the most challenging part of the whole project, as anyone who has applied contact to a surface will understand. Still, it was definitely worth the effort, as it looks fantastic.
KMART VINYL ADHESIVE ROLL - MARBLE
To complete the look, I purchased the matching cookware and utensil set from Ikea. I sprayed the metal pieces with 3 coats of rose gold spray paint in the same way as the kitchen, and they came up incredibly well. I decided to leave the black pieces au natural and am pleased that I did, as they work in beautifully with my playroom colour scheme - pale timber, rose gold and dusty pink with pops of black.
DUKTIG 5 PIECE TOY UTENSIL SET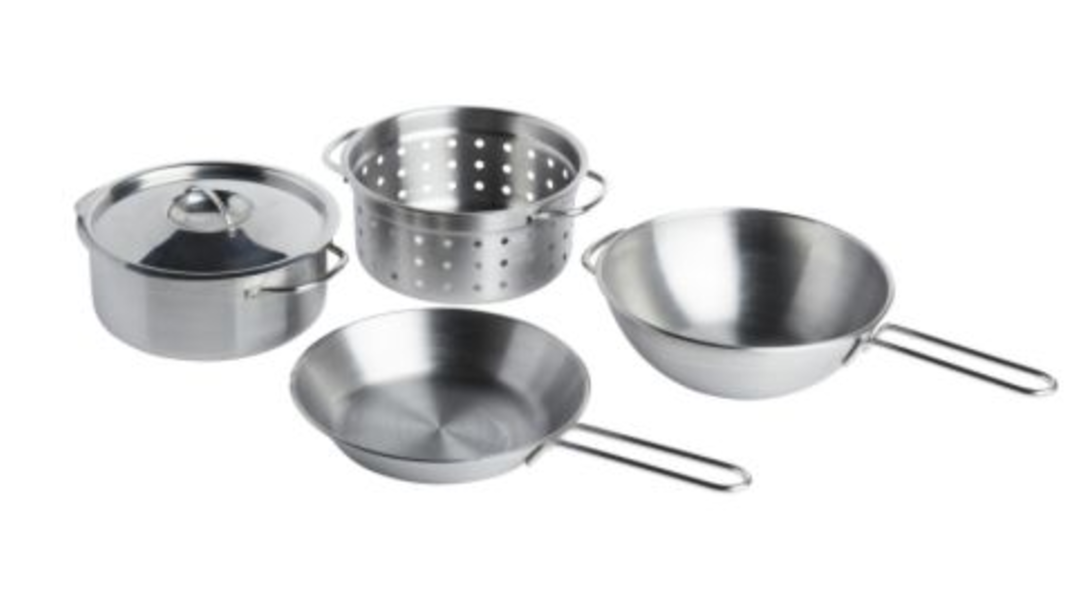 DUKTIG 5 PIECE TOY COOKWARE SET
DUKTIG 7 PIECE TOY BAKING SET
Months on, the kitchen has fared incredibly well, despite the best efforts of my 18 month old! There have been a couple of small scratches on the plastic kitchen handles which required a touch up of spray paint (I only gave 1 light coat, which took me about 2 minutes). The metal utensils look brand new, with no scratches or marks whatsoever. All in all, I am thrilled with the results and the longevity of my handy work. So much so, that I decided to spray everything I could get my hands on rose gold! As it turns out, you can purchase a multitude of items on Gumtree for a few dollars that look gorgeous spray painted! I even sprayed a 'rose gold' metal chair which I had been crushing over for months but hadn't purchased as the shade of rose gold was too coppery. A couple of coats of spray paint and the chair matches perfectly.
Feeling inspired to try your hand at a DIY? Bunnings stocks spray paint in a multitude of colours, so if rose gold's not your thing, it's easy to create your own individual look. Follow us on instagram for more interior design inspiration!